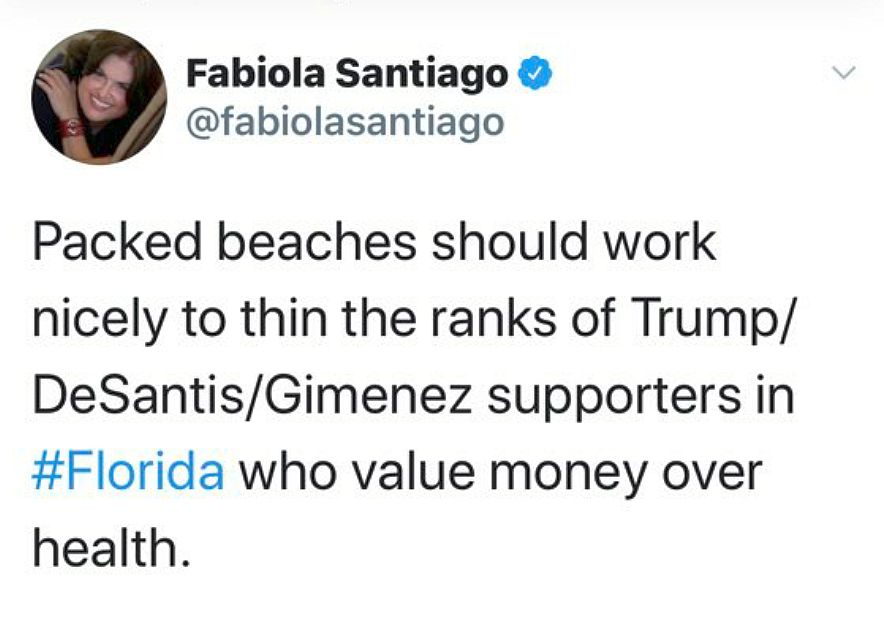 Should Fabiola Santiago of The Miami Herald Be Fired?
Fabiola Santiago Cuban immigrant and well known writer for the Miami Herald, who often writes pieces about the dictator tyrant Fidel Castro in her columns, showed this weekend that she herself has some tyrant traits of her own.   She has openly criticized Fidel Castro for incarcerating and killing all of his political enemies when he took power in Cuba in 1959, and yet in 2020 Fabiola Santiago, Miami Herald writer is wishing death on people that do not coincide with her own political views.
In a response tweet to Adriana Brasilero's story about the decision to open Florida beaches  Santiago wrote, "Packed beaches should work nicely to thin the ranks of Trump/ DeSantis/ Gimenez supporters in #Florida who value money over health".
Santiago's comments clearly demonstrate her loathing of President Trump and Governor DeSantis and the millions of people in Florida who support the Republican party.  She openly wished death on the supporters of President Trump and Governor DeSantis.   This is the worst manifestation of how incredibly biased the media has become against the President of the United States and the 63 million supporters that voted for him in 2016?  A news reporter of the Miami Herald openly wished death to people that support the President of the U.S. and the Governor of the Florida.
Fabiola deleted her horrific tweet after receiving the enormous backlash and explained in another tweet that read her "tweet did not accurately convey her sentiment" and she went on to apologize.  She wrote "regardless of political differences, I would never wish any harm on anyone".  Well, the truth of the matter is that she did wish death on the people of Florida that oppose her political views.  Apology may be too little too late for most Floridians.
This is another sad indication of how incredible divided and broken our country is and how the media has played the most significant role in the country's division.  Will Fabiola Santiago receive repercussion for this destructive sentiment she expressed openly?  Will this woman be allowed to continue working with the Miami Herald?
Time will tell…
For information on Florida Real Estate and How to Resolve Construction Code Violations in Florida READ MORE
Author: Roger Morales